One of the key data requirements in running marketing campaigns for your apps/games is knowing the number of installs and uninstalls. If you know the layoff rate of your users then you might be able to work on the reason of layoff and start taking steps for user retention.

App42 MA supports tracking of Uninstalls of your app on iOS and Android platform. To bring it in action you just have to integrate App42 SDK and set a boolean variable to enable the same. The detailed tutorial can be found here.
Uninstall tracking is dependent on Push Notification, so make sure that you have integrated Push Notification to get the Exact numbers of Uninstall.

Right from the installation of your app on a device to the uninstallation, App42 MA keeps a close eye on how your app is doing.
App42 users can now be able to see the install and uninstall analytics along with Daily, Weekly, Monthly and Total Installations in the Marketing Automation tab by navigating to App Insights.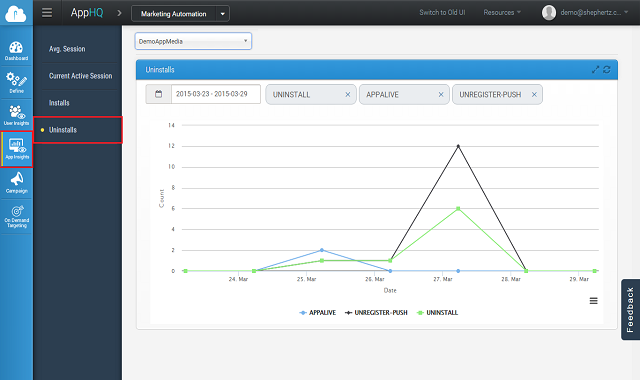 A comparative analysis between multi events is shown in the above screenshot. You can also configure the graph shown above to have analysis of one or two events.
Login to your AppHQ Management Console for more details. If you are new to App42 MA, register and get started now. If you have any question or need further assistance, please feel free to write to us at Forum.
---
---